Karas Extra Brut
Alc: 12% | Type/Varietal: - White, White Blend
Appellation: Armavir | Region: Armenia
notes: citrus, delicate, elegant, fresh, toasty
This sparkling wine has a light yellow color with delicate and elegant bubbles, displaying citric and fresh aromas with some notes of toasted bread. The intense acidity makes it fresh and easy to drink.
Retailers:
Addy Bassin's MacArthur Beverage,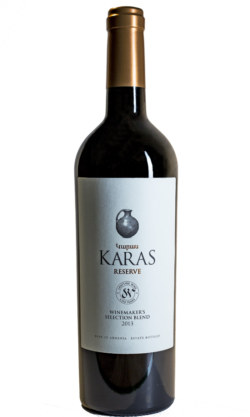 Karas Winemaker's Selection Blend Reserve 2013
Alc: 14% | Type/Varietal: - Red Blend
Appellation: Armavir | Region: Armenia
notes: acidity, chocolate, creamy, elegant, red berries, red fruits, sweet tannins, vanilla
This blend has an intense red color. One can feel elegant red fruits and berries' aromas and some chocolate and vanilla notes coming from the barrels. In the mouth it is elegant, very creamy, has good acidity and sweet tannins. It is very persistent. (Syrah, Montepulciano, Malbec, Cab. Franc, Petit Verdot & Tannat)
Rating/Awards:
Gold - Mundus Vini 2016 90 pts - Robert Parker "This is a more refined (and oakier) wine than the regular 2015 red reviewed. Showing better mid-palate finesse and precision, it adds a medley of blue fruit flavors and a hint of herbs. It finishes tight, with some acidity, leading to a juicy finish. It pulls in the oak rather well with time."
Retailers:
Addy Bassin's MacArthur Beverage,