About Tjrgovishte
The winemaking philosophy of the Targovishte Wine Cellar is to make world-class wine with distinctive fruit character using modern technologies yet preserving its distinguishing Bulgarian character. The grapes are carefully selected from vineyards on sub-Balkan hillside locations. As a result, the wines are approachable with mild fruit flavors and elegant character.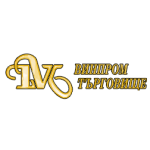 Products of Tjrgovishte
Content not found. Please click the back button below.