Bella Grace 2014 3 Graces White
Alc: 13.6% | Type/Varietal: - White Blend
Appellation: Amador County | Region: California
notes: acidity, barrel aged, bright, butter, citrus, clarity, crisp, floral, green apple, layered, pear, silky, straw
The color of light straw with wonderful clarity, this blend of Rhone white varietals offers layers of flavor. The nose is crisp and has touches of green pear with floral notes. Three Graces has a wonderful silky mouth feel provided by the barrel aged Roussane. It starts a little buttery but quickly develops bright citrus and green apple tartness. The finish is nicely acidic. Perfect for your summer grills of peaches, vegetables and lighter meats.
Rating/Awards:
Best of Class of Region - 2015 California State Fair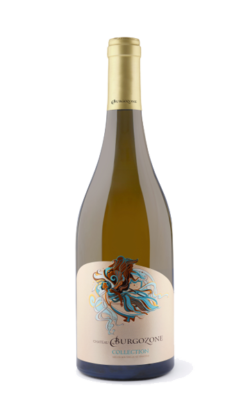 Chateau Burgozone Collection Chardonnay 2012
Alc: 13.5% | Type/Varietal: Chardonnay - White
Appellation: Danube River Plain | Region: Bulgaria
notes: attractive, butter, caramel, caramelized fruit, citrus, coconut, dried figs, dried fruits, fleshy, fresh, harmonious, honey, Mild, nutty, pineapple, pleasant, rich, roasted nuts, smoky, vanilla
Golden color with yellow glitter. Beautifully transparent and radiant. Attractive nose with accents of smoky, butter, coconut and dry figs. The aroma is nicely complemented by notes of citrus and pineapple. Fleshy and rich taste with mild texture, pleasant freshness and harmonious finish with hint of roasted nuts, spring honey, caramelized fruit and vanilla.