Bella Grace 2013 Barbera
Alc: 14.5% | Type/Varietal: Barbera - Red
Appellation: Amador County | Region:
notes: black cherry, bold, liquorice, luxurious, oak, plum, silky, spice, vanilla
The nose is dominated by Christmas spices and a hint of oak. It is bold but quickly softens and expands to include vanilla As you savor the wine your palate will quickly be filled with flavors of black cherry and dark plums. Finally, the wine will present a soft layer of vanilla and hints of black licorice. The mouth feel is luxurious and satiny.
Rating/Awards:
90 pts - Wine Enthusiast Gold Medal - San Francisco Chronicle
Castra Rubra Motley Cock 2011
Alc: 14.5% | Type/Varietal: - Red, Red Blend
Appellation: Thracian Valley | Region: Bulgaria
notes: cinnamon, clove, dry meat, elegant, fresh, juicy, liquorice, red berries, ripe tannins, spice, well rounded
The color is dark ruby with soft nuances. The nose is impressively juicy with ripe red berries, cinnamon and clove, liquorice and dry meat. Fresh, juicy, well-rounded body, with ripe tannins. Elegant and spicy finish. This wine is very food friendly and can be match with wide range of dishes; Italian pasta and pizza, matured yellow cheeses, BBQ and steaks
Rating/Awards:
89 Points from Wine Enthusiast 88 Points from Robert Parker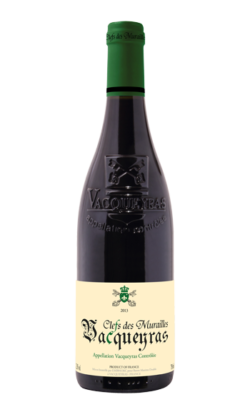 Clefs des Murailles Vacqueyras 2015
Alc: 14% | Type/Varietal: - Red Blend
Appellation: Rhone Valley | Region: France
notes: blueberry, fresh, liquorice, strawberry, well structured, wild fruit
(70% Grenache, 25% Syrah, 5% Cinsalt/Mourvedre) A nice illustration of the Vacqueyras appellation for the freshness and pureness of its fruit. It is characterized by an intense bouquet of small wild fruits, crushed strawberries and blueberries. In the mouth, it is well structured with an explosion of fruits. The finish hints of licorice. Perfect with red meats such as a grilled rib steak (top-quality sea salt). To really appreciate the freshness and delicacy of this wine, it should be enjoyed when young at about 15°C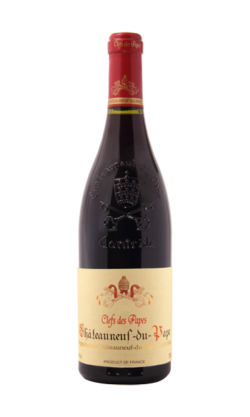 Clefs des Papes Châteauneuf-du-Pape Rouge 2012
Alc: 14.5% | Type/Varietal: - Red Blend
Appellation: Rhone Valley | Region: France
notes: cherry, elegant, liquorice, meaty, Medium body
(80% Grenache, 15% Syrah, 5% Mourvedre) Deep garnet color. Complex nose with hints of licorice, cherries in brandy and brambles. Notes of venison after twirling. Medium bodied with elegant tannins. Very pleasant to drink now but could mature for one or two more years. European cuisine : cheeses such as Livarot, Pont l'Evêque, stews, figs roasted in honey and red wine, game, hare, peppered steak provençal stews, red meats.
Domaine Chantepierre Lirac 2014
Alc: N/A% | Type/Varietal: - Red Blend
Appellation: Rhone Valley | Region: France
notes: caramel, elegant, full body, liquorice, ripe fruit, robust, Soft, warm
The color is deep crimson with purple tints. Ripe fruit aromas with caramel and licorice. The mouth is soft in the beginning, robust and warm, and full-bodied. Lirac is a Cru known for its elegant, full-bodied wines.
Rating/Awards:
88 Points from Vinous
Silver Syrah Trentotto File 2010
Alc: 13% | Type/Varietal: - Red, Red Blend
Appellation: Santa Barbara | Region: California, US
notes: balanced, black pepper, blackberry, blueberry, grape, liquorice, meaty, solid tannins
91% Syrah, 4% Mourvedre, 3% Grenache, 2% Viognier. Beautiful aromas of roasted pork in a blackberry-licorice sauce pick up a bit of grape before hitting the palate with black pepper, blueberries and solid tannins. It's fun but serious. This wine is built to last for the next 15-20 years.
Rating/Awards:
92 pts from Wine Enthusiast 2015