Baron Maxime French Colombard 2016
Alc: 11% | Type/Varietal: - White Blend
Appellation: | Region: France
notes: crisp, fresh, mango, melon, pineapple
(85% Colombard, 15% Muscat petit grain) A very light colored wine with silver hue, in the nose you will find some hints of melon, mangoes and some pineapple. In the mouth it is very fresh and crisp and has a bit of sweetness that comes from the muscat. You can have it on its own or with some mussels from the Mediterranean. The pearls on the front label crown will turn green when the wine is at its optimal service temperature
Retailers:
Wine Districts,
Bulgariana Sauvignon Blanc 2015
Alc: 13% | Type/Varietal: Sauvignon Blanc - White
Appellation: Thracian Valley | Region: Bulgaria
notes: acidity, exotic fruits, kumquat, mango, pineapple
This delightful wine hints of exotic fruits like pineapple, mango, and kumquat. Stainless steel aging gives this wine a gentle acidity on the palate and a very satisfying aftertaste.
Rating/Awards:
90 pts - Wine Enthusiast
Distributors:
Burke Beverage, Inc., Classic Wines,
Retailers:
Addy Bassin's MacArthur Beverage, Binny's, Heinen's, Sprouts, Total Wine & More, Wholefoods, Wine Districts,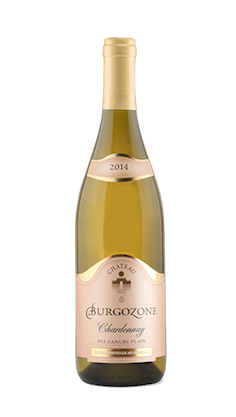 Chateau Burgozone Chardonnay 2014
Alc: 13.5% | Type/Varietal: Chardonnay - White
Appellation: Danube River Plain | Region: Bulgaria
notes: clean, crisp, freshly cut grass, guava, lemon pith, lemongrass, lime, lychee, mango, tropical fruit, zesty
This Chardonnay breaks away from the typical varietal profile, with aromas of freshly cut grass and lemongrass. Delightful tropical fruit flavors of mango, lychee and guava dominate the palate. The zesty, clean and crisp finish is characterized by flavors of lemon pith and lime juice.
Rating/Awards:
90 pts from Wine Enthusiast Best Buy 2015
Gold Medal - Concours Mondial Bruxelles
Distributors:
Bacchus Importers, Ltd,