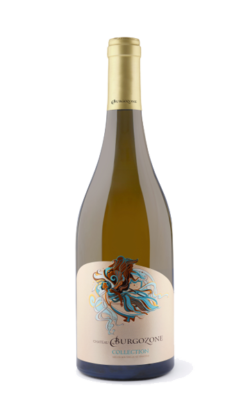 Chateau Burgozone Collection Chardonnay 2014
Alc: 13.5% | Type/Varietal: Chardonnay - White
Appellation: Danube River Plain | Region: Bulgaria
notes: attractive, butter, caramel, caramelized fruit, citrus, coconut, dried figs, dried fruits, fleshy, fresh, harmonious, honey, Mild, nutty, pineapple, pleasant, rich, roasted nuts, smoky, vanilla
Golden color with yellow glitter. Beautifully transparent and radiant. Attractive nose with accents of smoky, butter, coconut and dry figs. The aroma is nicely complemented by notes of citrus and pineapple. Fleshy and rich taste with mild texture, pleasant freshness and harmonious finish with hint of roasted nuts, spring honey, caramelized fruit and vanilla.
Rating/Awards:
91 pts - Wine Enthusiast, Editor's Choice (2012 vintage) "Pale straw in the glass, this wine has a nose of pineapple and lemon blossom with a strong dose of vanilla. It is round and full in the mouth, with rich flavors of green apple, guava and tropical fruits with a slight hint of toast that carry on through the long-lasting finish."
K Cellars Chardonnay 2015
Alc: 13% | Type/Varietal: Chardonnay - White
Appellation: Thracian Valley | Region: Bulgaria
notes: Almond, citrus, crisp, fresh, harmonious, lemon, lingering, Mild, peach, Soft, unoaked
This unoaked Chardonnay is crisp and fresh. Almond and citrus aromas prevail in this wine, a pleasing soft taste of lemon followed by a pinch of white peach. Harmonious and mild lingering finish.
Rating/Awards:
90 Points from Wine Enthusiast Best Buy
Retailers:
AJ's, Wine Districts,