Bella Grace 2013 Old Vine Zinfandel
Alc: 14.4% | Type/Varietal: Zinfandel - Red
Appellation: Amador County | Region: California
notes: black pepper, cherry, mild tannins, nutmeg, pleasant, raspberry, smoky, spice, tobacco
The 2012 Old Vine Zinfandel, a crimson red wine, opens with dark cherry, tobacco and mild tannins. Mid-palate flavors of holiday spice and nutmeg develop along with ripe raspberries. The finish is pleasant and slightly smoky with light notes of black pepper. Pair with red meats, hearty stews and chocolates, or with a loved one in front of the fire.
Rating/Awards:
Gold Medal - 2015 San Francisco Chronicle
Silver Medal - 2015 Grand Harvest Awards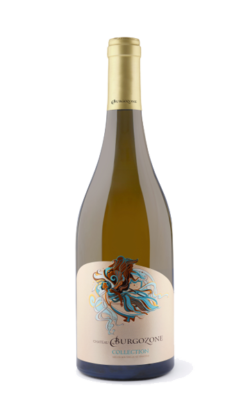 Chateau Burgozone Collection Chardonnay 2014
Alc: 13.5% | Type/Varietal: Chardonnay - White
Appellation: Danube River Plain | Region: Bulgaria
notes: attractive, butter, caramel, caramelized fruit, citrus, coconut, dried figs, dried fruits, fleshy, fresh, harmonious, honey, Mild, nutty, pineapple, pleasant, rich, roasted nuts, smoky, vanilla
Golden color with yellow glitter. Beautifully transparent and radiant. Attractive nose with accents of smoky, butter, coconut and dry figs. The aroma is nicely complemented by notes of citrus and pineapple. Fleshy and rich taste with mild texture, pleasant freshness and harmonious finish with hint of roasted nuts, spring honey, caramelized fruit and vanilla.
Rating/Awards:
91 pts - Wine Enthusiast, Editor's Choice (2012 vintage) "Pale straw in the glass, this wine has a nose of pineapple and lemon blossom with a strong dose of vanilla. It is round and full in the mouth, with rich flavors of green apple, guava and tropical fruits with a slight hint of toast that carry on through the long-lasting finish."
Domaine Chantepierre Cotes du Rhone 2015
Alc: N/A% | Type/Varietal: - Red Blend
Appellation: Rhone Valley | Region: France
notes: light, pepper, pleasant, red fruits, Soft, structured
The color is bright deep crimson with a pleasing and peppery nose of red fruit. The mouth has a soft attack and light structure. A very enjoyable wine to drink.